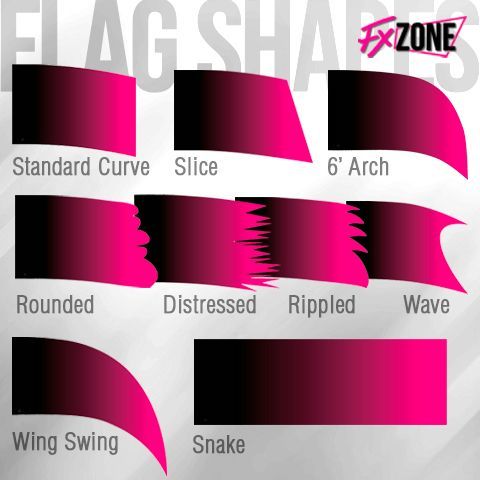 Have you ever watched a color guard performance where you are mesmerized by how cool the flags are? While it's easy to fall in love with those wonderful performers and that super clean flag line, you will sometimes run into a show where the design of the flags lends itself to making the performance EXTRA special. 
Flags most certainly put the COLOR in color guard and when your costume, flags, and tarp all coordinate seamlessly you can hit the visual jackpot.  The one thing that can sometimes be overlooked is how many choices you have when it comes to the SHAPE of your flag and how much of an impact the shape and size of your flags can have on the overall design.
Read on for some things to think about as you put together your fall show flag designs:
Size Matters
While the 6-foot standard curve is the go-to shape these days there are so many options for you to choose from. 
I encourage you to explore all of the possibilities and think outside of your comfort zone.  Flags come in sizes from handheld widgets to swing flags to wings to oversized 8 footers or giant pullovers.
Choose the right shape
Standard flags usually have a standard curve, standard rectangle, or standard slice shape.

TIP: The "slice" shape is more angular and might be a good choice for a more aggressive part of your show.

Shaped edges provide additional texture and interest that always complement the flag design.  Field and Floor FX recently introduced 5 new flag shapes for you to explore.

TIP: We now have distressed (tattered edges), ripple (great to show water or ocean), rounded (perfect for cloud or sky images), wave (create a wave-like effect), and the extra-long snake shape (exaggerated length and bold color).

Different shapes can create a softer look or a harder accent.  These various edges can create more of a character and period look.

TIP: A distressed edge flag for a pirate theme or rounded edge for sky and cloud themes.

Fun Fact: Back in the 1990's many color guards used a rectangle shape but realized that the top corner can really fold over, and a large piece of color disappeared making the flag a tad less colorful---shortly after, the standard curve was born! 
Do you have a small guard?
Handheld swing flags that can turn into double swing flags in 2 counts are a fantastic tool to flood the field with color and make your guard and band look huge. 

TIP:  A guard of 10 members can open up their regular swings to be double swings and you instantly double the color to 20 flags.

Larger-sized flags, extra-long flags, and oversized poles from 7 to 8 feet tall will also make your guard look extra-large. 
Be sure the members can handle the size of the pole and flag.  

TIP:  Try a sample and hand it to your smallest performer to spin to make sure you have the proportions right and all the members have the strength to use a larger flag/pole.
Swings and Wings
Choose the shape of the swing flag that you want wisely.  Field and Floor FX has over 8 shapes of swing flags and 5 wing shapes to choose from.
Wings can be a little pricier than a standard flag shape, but they are super effective when you want tons of color.
Wing shapes can include butterfly wings, angel wings, BMF wings (looks like a giant cape), and standard circle wings that look more like a half-circle.
Fabric Fun
The most common flag material is poly silk, it is lightweight and shows the bold color so well.
Opal Lame is fantastic if you are looking for a special opalescent look and twinkle under the lights.
Clear Lame is cool if you want to see a floating design that fits well with your theme, think of a flag printed on something that resembles Saran Wrap.
Organza can be very light and transparent as well.
Combinations are Cool
Combine several different flag shapes or fabrics to add a lot of texture to the performance space. 
Using three different flag shapes at the same time can create a magical look.

Example: Snake flag shape in the back for height, 6-foot or 7-foot flags in the middle, and swing flags in the front.  Can you say layering? J

Fabric combos- You can not only combine the different shapes and sizes, but you can combine different fabrics to add unique textures.

Example: Poly silk in a rich color palette, an opalescent lame for that special twinkle under the stadium lights, and a gorgeous organza.
---
Rosie Queen is a color guard lifer and creative writer who currently resides in Huntington Beach, CA. Rosie has been blessed to be deeply involved in the marching arts since 1983. Rosie is obsessed with her dogs, color guard/marching band, national parks, and traveling.