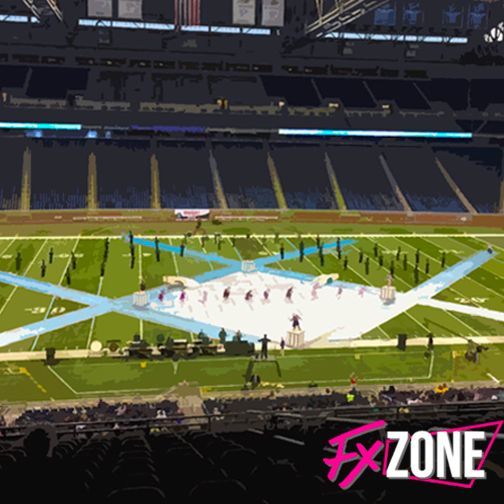 To Tarp or Not to Tarp… that is the question, especially when your team is performing outdoors.
Using tarps out on the football field is a fantastic and inexpensive way to change the stage.  Tarps are a great way to cover up those yard lines, numbers, hashes, and mascots on the center of the field.
It has always been interesting to me that as our marching arts groups are lucky enough to perform in giant stadiums across the U.S. including Lucas Oil Stadium in Indianapolis, most groups have a giant helmet in the center of their stage that we all simply try to ignore.  Talk about an elephant in the room!
Depending on how many shows you have outdoors vs. indoors and what your local weather is typically like during the marching band season, tarps may be a good solution for creating an identity and setting the stage for your team. 
GREAT USES FOR A TARP IN AN OUTDOOR SHOW:
Creating a special space on the field to highlight events, soloists, features.
Scenic design to help your theme and identity.
With digital printing the sky is the limit!
Graphic patterns that can motivate drill/form design. 
TIPS FOR USING A TARP OUTDOORS:
WIND

Have a plan for holding it down during a windy day, there is nothing worse than tarp edges blowing around during the show.
Some people use long bar weights, others use tape to fasten it down to the turf (be sure to check your local rules on using tape).

CLEAN DRILL

Mark it with a grid to help you clean your drill/staging.
Field and Floor FX can even print a faint colored grid on the tarp pieces for you to line up with yard lines or any increment you want to help your performers have guides to use for their staging needs.

SET UP/TEAR DOWN

Practice coming on and off the field BEFORE your first show.
Have a solid plan in place and even a "windy day" plan.

COLD FOLD

Be mindful that if the temperature is low enough that folding or unfolding a tarp on a super brisk day can cause the vinyl to crack a bit.  Try to "warm it up" a bit when unfolding after a cold temperate.

KEEP IT CLEAN

Outdoor tarps will get dirty so be smart in the design and colors you choose… darker colors will look cleaner longer.
Have a cleaning party before big shows.  Have a wipe-down party the Friday night before big shows.  Be mindful that you don't use any cleansers that make your tarp slippery… yikes!
Use a "practice tarp" and a "show tarp" if possible. If you have any old tarps laying around cut them to the shape you need and use that during rehearsals. Only pull out the show tarp on show days to keep it in pristine shape.

RECYCLE!!

You might be able to use your outdoor tarp during indoor season or vice versa.  Be smart and think through your year-round design plan.
Contact us at Field and Floor FX today to help you with your digital tarp designs for your next production!