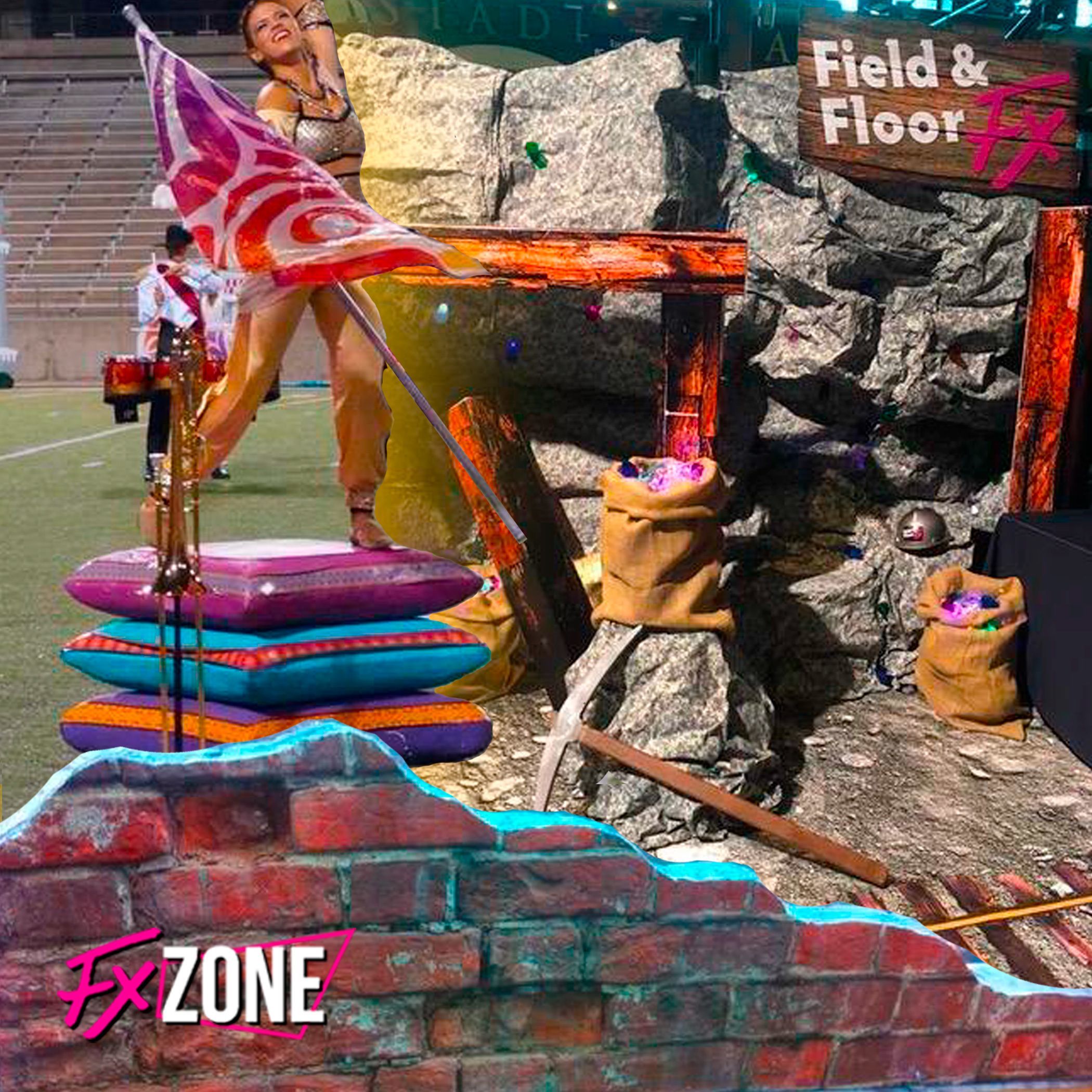 Field and Floor FX undoubtedly creates quality digitally printed tarps, flags, and fabric--this is common knowledge. But what you might not know is that Field and Floor FX can help you create a unique set design that includes many one-of-a-kind props.
We have helped many of your favorite marching bands, drum corps, and winter guards bring their show to life over the years and we would love to help you do the same.
If you can imagine it there is most likely a way to create it.
We have many resources and materials available that you might not even know exist. Have a conversation with us by calling into the Field and Floor FX office or send one of our reps an email. (You can reach me directly at: rosiequeen@mac.com)
You might be used to heading to the nearest Home Depot/Hobby Store yourself and doing some YouTube research on putting props together. Sometimes this can be a very time-consuming and frustrating process.
There are so many things to consider like size, scale of the performance area, weight, and performer safety to name a few. Field and Floor FX can help make your life a lot easier, take a look at some of the unique things we have helped create over the years.
We are going to split up this article into two parts, be on the lookout for Part 2 coming your way soon for more ideas for your next marching band, winter guard, or drum corps design meeting!
 
PILLOW PROPS
Do you remember the beautiful pillow stacks used by Santa Clara Vanguard from DCI 2014. They were
made of high-density foam and were each individually hand-carved. They looked so real because the shape had so much detail. They looked like fluffy pillows stacked up, but in reality, they were a super sturdy high-density foam that lasted all season.
A cut-out step was incorporated for the performer to easily step up and a non-skid surface was included on top. They were then painted to match the rest of the set and a decal trim was added.
BRICK WALL
The brick wall prop for SCV Winterguard was created by printing a high-resolution image of a brick wall. It is actually a flat surface but the detail in the image gives the appearance of 3D when viewed from further away. The detail and dimension of the bricks look so real! It goes to show you that choosing the right image is so important to the overall quality of your set. We can help! The image adhered to a thick foam material and cut to the shape to make it look more authentic.
RAILROAD AND MINE AREA
The props used at our 2016 BOA tradeshow booth all use different techniques and show you the magic effects of combining several techniques. The stone wall was produced using a special printed cloth made with a flexible aluminum backing. In this scene, it was attached to a simple frame to create the illusion and dimension of a rock wall. This special fabric comes in rolls and various textures like stone, lava, snow, and tree bark. There are so many possibilities of how this fabric can be molded to help you with your set as opposed to using a one-dimensional "flat". The floor tarp is simply a printed texture and the mine tracks were added. The railroad ties are made out of printed on a plastic material and folded into the shape of the railroad ties.
They were then stacked against the rock wall. The FX wood sign was created the same way. The pickaxe is made out of a special dimensional material carve into the shape and finished with textured paint. These props can be used/spun as a piece of non-standard equipment. Other details added are off the shelf burlap bags stuffed with plastic gem Christmas ornaments, a work helmet painted gray and lanterns from a hobby shop.
Check back in a couple of weeks to see the second part of this series and more prop inspirations that Field and Floor FX can help you with. Reach out to us today!! We also offer onsite prop creation to help with those bigger projects. We can come to you and help put the set together! We have the expertise to help with the details, assembly, and know-how to help your design elevate to the next level.