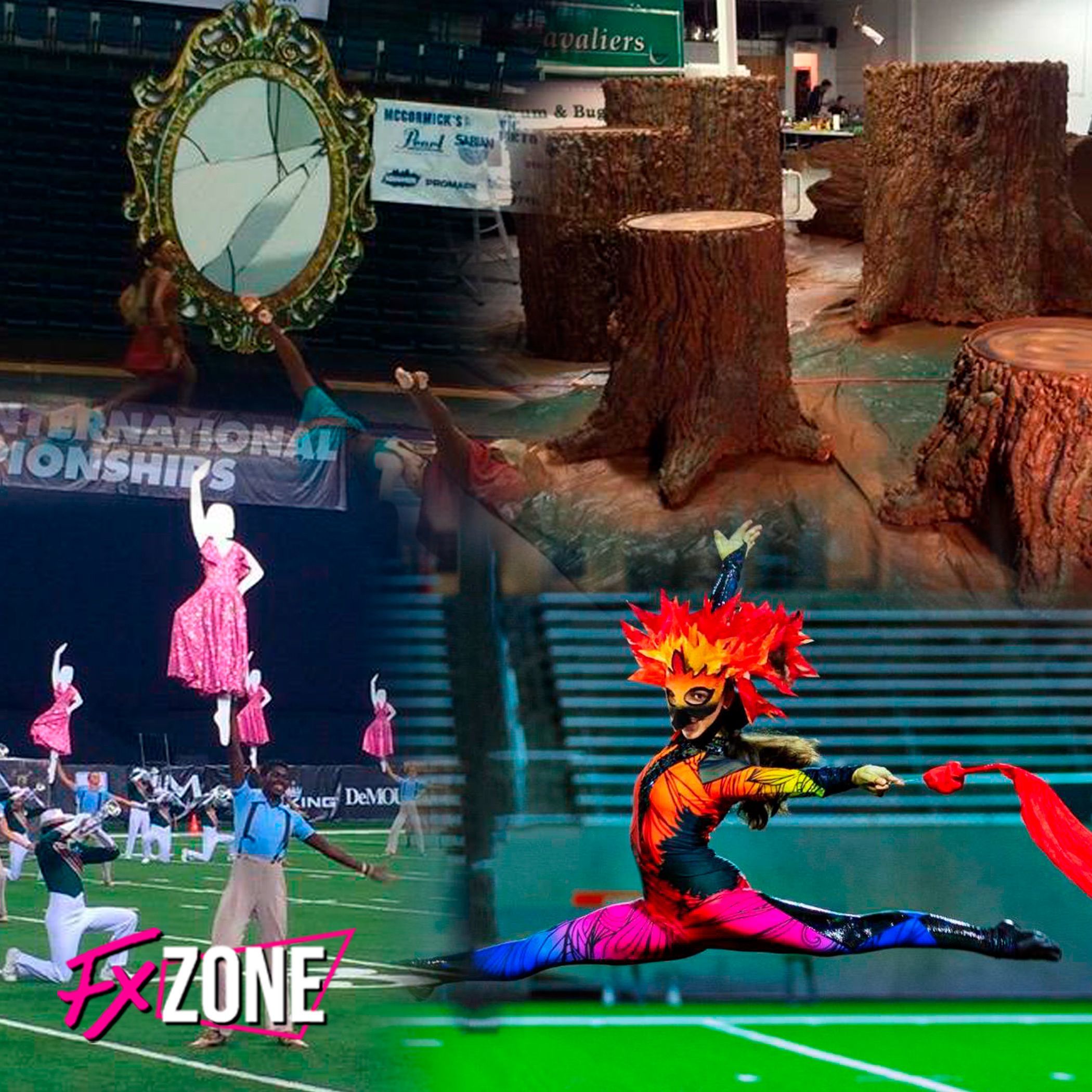 Our last article shared some of the unique props that we have created over the years at Field and Floor FX. Welcome to Part 2!! We have helped many of your favorite marching bands, drum corps, and winter guards bring their show to life over the years and we would love to help you do the same. If you can imagine it there is most likely a way to create it. We have many resources and materials available that you might not even know exist.
Have a conversation with us by calling into the Field and Floor FX office or send one of our reps an email. (You can reach me directly at: rosiequeen@mac.com). You might be used to heading to the nearest Home Depot/Hobby Store yourself and doing some YouTube research on putting props together. Sometimes this can be a very time-consuming and frustrating process.
There are so many things to consider like size, scale of the performance area, weight, and performers safety to name a few. Field and Floor FX can help make your life a lot easier, take a look at some of the unique things we have helped create over the years.

1. TREE PROPS
These super-realistic tree props were made for the Cavaliers Indoor Drumlines' 2016 "Lost Boys" show. The bases were designed to support the weight of the performers to give them an elevated stage. The tree bark texture, roots and extensions were created using a special theater technique. They were then painted with several textured painting techniques and details like moss were added. This was one of the projects that Field and Floor FX, Doug Gardner, went out to Chicago to help them put together in person.
2. BROKEN MIRROR PROP
You might remember seeing this cool mirror prop in Warren Central's WGI show back in 2015. This mirror prop was created using 2 different materials. The mirror itself uses a special simulated mirror substrate cut to shape. The individual cracked pieces fit together like a puzzle. The mirror started as a full regular mirror but by the end of the show, the mirror was broken. The special effect of the mirror breaking at the end of the show added even more drama to the effect. The gold frame of the mirror is actually a flat printed image but from far away appears to be three dimensional.
3. DANCING MANNEQUINS
These fun props were created for the Madison Scouts. They were made by cutting out the shape of the dancing lady. The material used was ½" hard plastic. The dresses were added separately and made for a really fun effect out on the field.
4. COLORFUL MASK
This super colorful mask/headpiece that we created made a huge impact out on the field! The client had a VERY difficult time finding anyone in the marching arts to create them without being super expensive. We were able to help them make these masks for a reasonable price and give them exactly what they wanted.
The possibilities are endless and our ability to help you bring your creative ideas to life is our mission. Reach out to us today!! We also offer onsite prop creation to help with those bigger projects. We can come to you and help put the set together! We have the expertise to help with the details, assembly, and know-how to help your design elevate to the next level.